MaRVis MR Guidewires are…
essential tools for innovative, powerful, and patient-friendly minimally invasive medical procedures guided by magnetic resonance imaging (MRI).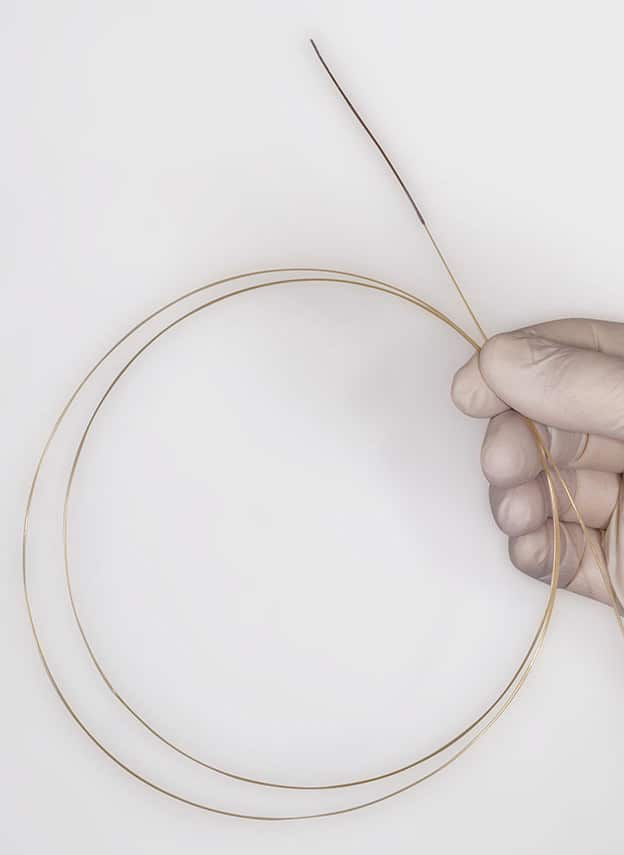 MaRVis MR Guidewires
MaRVis has developed the world´s first comprehensive portfolio of MR safe and visible guidewires with mechanical properties comparable to conventional metal-based guidewires, and with excellent visibility in MRI.
For the first time the necessary combination of high axial stiffness, torsion capability, general stability, flexibility and tear-resistance as essential material properties on the one hand, and patient safety features, controlled artifact (image) generation for directed visualization, and no electric conductivity or heating in MRI on the other hand, has been achieved.
The MaRVis MR Guidewires are based on elongated glass and aramid fiber/epoxy compound materials. The distal end of the guidewire is provided as a flexible, manually shapeable tip including an X-ray marker. MR visibility is achieved by a continuous doping of the guidewire with iron microparticles. A distinct, ball-shaped tip marker artifact is generated by a locally increased iron microparticle concentration at the very distal end of the flexible tip.
The aramid fibers and the PTFE shrink tube (which also creates a slippery surface) over the entire length of the guidewire in a monobloc design are patient safety features. A maximal bending radius has been defined for each guidewire type which is indicated on the label.

The MaRVis MR Guidewires are "MR Safe" according to ASTM F2503-13.
MRI Visualization
The MaRVis MR Guidewires are represented in the MR image as a continuous line resulting from the centrically localized MR marker particles. The optimized MaRVis MR marker technology enables a sharp and precise artifact (image) of the guidewire, balanced in both directons longitudinal and perpendicular to B0.
In order to precisely and reliably identify the position of the distal end of the guidewire, an additional ball-shaped MR tip marker has been added at the distal end of the guidewire. Thereby the presence of the tip in the displayed MR image slice can be simply ensured.
High quality MR images of MaRVis MR Guidewires have been obtained on MR scanners of all three major manufacturers (GE, Philips, Siemens) using standard real-time interventional MR sequences (bSSFP/bTFE, TrueFISP, Flash, FGRE) without major alterations. The diameters of the susceptibility artifacts generated by MaRVis MR Guidewires are close to the their actual diameters, but depend on the sequence settings.
Comparative testing in Siemens 0.55T, 1.5T and 3T MR scanners has been jointly published by MaRVis and Siemens:
W. B. Buchenberg, K. Düring, M. Rube, and A. J. Krafft; Visualization of metallic and non-metallic guidewires at 0.55T, 1.5T, and 3T; ISMRM Workshop on Low Field MRI, 16-18 March 2022, Bethesday, MD, USA
W. B. Buchenberg, K. Düring, M. Rube, and A. J. Krafft; Artifact exploration of metallic and non-metallic guidewires at 0.55T, 1.5T, and 3T MR systems; 13th Interventional MRI Symposium 2022, 14-15th October 2022, Leipzig, Germany
Publications are available upon request from MaRVis: info@marvistech.com
Contact us
for  further  information:
For inquiries regarding safety aspects of our products: